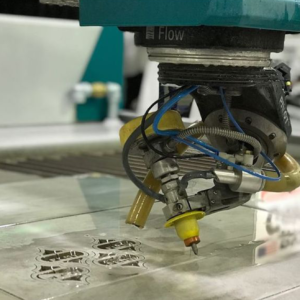 With our water jet cutting services, JK Industrial Fabrication manufactures close tolerance parts in prototype to high volumes. The flexibility and versatility of water jet cutting allow us to cut almost any material into practically any shape with a combination of speed, accuracy, and precision. We leverage state-of-the-art dynamic water jet cutting technology to produce high-accuracy 3D parts at significantly faster speeds than a standard water jet, which allows us to provide fast-track turnaround of small to large order sizes.
Featuring variable pressure rated up to 60,000 psi, our water jet cutter can power through materials us to 6.0″ thick, and we can stack multiple layers while maintaining consistent tolerances in each. We cut an extensive range of materials, including metal, plastics, stone, glass, and composites at speeds up to 425″/minute. Edges are smooth and need no further attention, which eliminates secondary processing, and there is no thermal distortion or work hardening. We use nesting software to obtain high yields and reduce material costs, and with 5-axis articulation of the water jet head, we can generate complex and unique features and geometries.
Tapping into our strengths as a metal fabricator, we offer engineering and design services to optimize the part configuration for water jet cutting. We have a range of other fabrication capabilities, and also offer polishing services for parts than need exceptional quality finishes, such as those used in the foodservice and laboratory markets. Whether it is a one-of-a-kind item or a large batch of precision parts, we offer economical pricing and swift delivery. To learn more about our versatile water jet cutting services, or to request a quote, contact us directly.
---